The following is an excerpt from Best Stocks for 2019: LyondellBasell Is Set for a Strong Second Quarter
As we near the end of the first quarter, the competition is fierce in InvestorPlace's Best Stocks for 2019 contest. Cannabis product maker Charlotte's Web Holdings (CWBHF) is leading the pack, up 67% at time of writing, but onshore oil and gas producer Viper Energy Partners (VNOM) isn't far behind at 29%.
Against this competition, LyondellBasell Industries (LYB) and its modest 4% would seem to be getting left in the dust.
But it's still early, and we still have a lot of 2019 left to go. And I'm expecting LyondellBasell to make it a competitive race, come what may in the market.
LYB Stock Valuation
I'll start with valuation.
A cheap price is no guarantee of investment success, at least over short time horizons. But it certainly creates the conditions to make outsized gains possible. LyondellBasell trades for 7.2 times trailing earnings and just 0.83 times sales.
To put this in perspective, LyondellBasell's P/E ratio was over 16 in late 2012; by this metric LYB stock is trading at less than half its valuation of seven years ago despite price/earnings multiples expanding prodigiously across most of the stock market over that same period.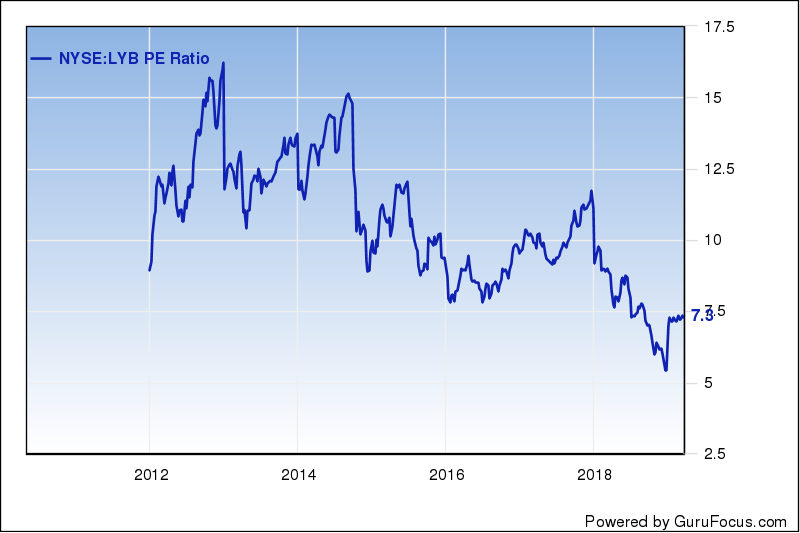 Likewise, LYB's price/sales ratio has been bouncing around in a range of 1 to 1.4 since 2013. Today's 0.9 takes the stock's valuation back to early 2013 levels.
Again, a cheap stock price doesn't guarantee a hefty stock return, at least not over any specific time horizon. But it certainly creates the conditions that make outsized returns possible.
To read the full article, see Best Stocks for 2019: LyondellBasell Is Set for a Strong Second Quarter