Editor's note: This column is part of our Best Stocks for 2015 contest. Charles Sizemore's pick for the contest is Prospect Capital Corporation (PSEC).
I have a reputation to redeem. After winning InvestorPlace's Best Stocks contest in 2011, coming within a hair of winning in 2012, and then winning it all in 2013, I'm at the bottom of the heap in 2014. My bet that 2014 would be the year that emerging markets assumed leadership proved to be premature.
This is my bet for 2015: Cash will be king.
I don't expect much from U.S. equities in 2015. It's not that I'm a bear — I'm not — but valuations look stretched, and U.S. stocks are priced to deliver flattish returns over the next 5 to 7 years.
Rather than buy, hold, and pray that this bull market has another good year left in it, I'd prefer to get my returns up front in cold, hard cash.
My pick for InvestorPlace's Best Stocks of 2015 contest is business development company Prospect Capital Corporation (PSEC).
PSEC invests primarily in first-lien and second-lien senior loans and mezzanine debt and provides financing for leveraged buyouts, acquisitions, recapitalizations, and capital expenditures for growth. PSEC also invests in the higher-risk but potentially much higher-return equity tranches of collateralized loan obligations.
Most of PSEC's individual investments would have to be considered risky given the early stages of the companies involved, but the portfolio is diversified across a wide variety of industries, and management recently announced it was lowering its risk profile by increasing its allocation to first-lien loans.
PSEC caused a ruckus in December by cutting its dividend to 8.333 cents per month from 11.1 cents to bring its dividend more in line with its reduced risk and return profile. But even after the reduction, PSEC sports a dividend yield of nearly 12%.
And the effective yield may end up being higher. In their recent press release, management indicated that additional special dividends are a real possibility over the next 12 months.
Investors hate dividend cuts, and PSEC's share price has taken an absolute beating following the announcement.  PSEC now trades for just 80% of book value (see chart), matching its lows of 2011. At these prices, the market is valuing PSEC as being worth more dead than alive.
PSEC Insiders Are Eating Up PSEC Stock
What kind of returns do I expect in 2015? If PSEC share price were simply to rise to accounting book value, we'd be looking at 25% capital appreciation. Add in the 12% dividend, and you're looking at returns north of 37%. And this is before the payment of any special dividends, which I consider very likely. These are hypotheticals, of course. But I still like what I see.
At current prices, we have a wide margin of safety. If PSEC's accounting book value proves to be slightly overstated, that's OK. Buying at a 20% discount, you have a little wiggle room.
Meanwhile, company insiders have been backing up the proverbial truck. In the month of December alone, PSEC insiders collectively bought 552,200 shares worth more than $4.8 million. Year-to-date, company insiders have plowed a combined $11.2 million dollars into Prospect Capital's shares.
I should emphasize that these are open-market purchases made with the insiders' own money, not executive stock options.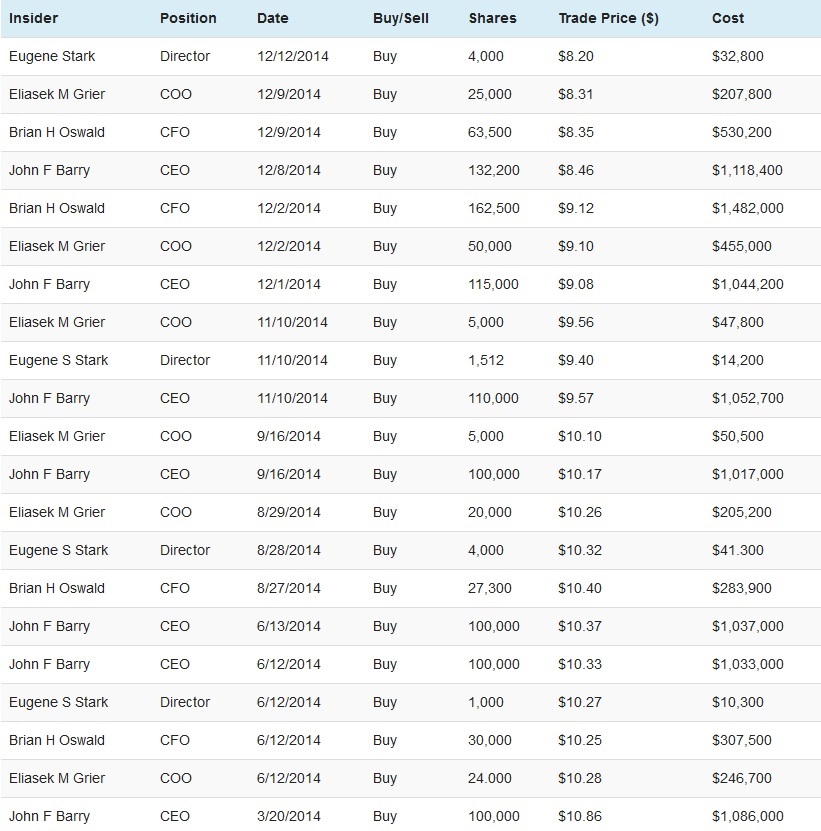 Follow the insiders. Buy shares of Prospect Capital and plan to hold for the duration of 2015 for what I expect to be solid returns.
Charles Lewis Sizemore, CFA, is chief investment officer of the investment firm Sizemore Capital Management and the author of the Sizemore Insights blog.