Last month, I wrote that pre-holiday shipments of Frozen merchandise pointed to a blowout year for Disney (DIS). Today, I have some updated numbers to share from global trade site Panjiva.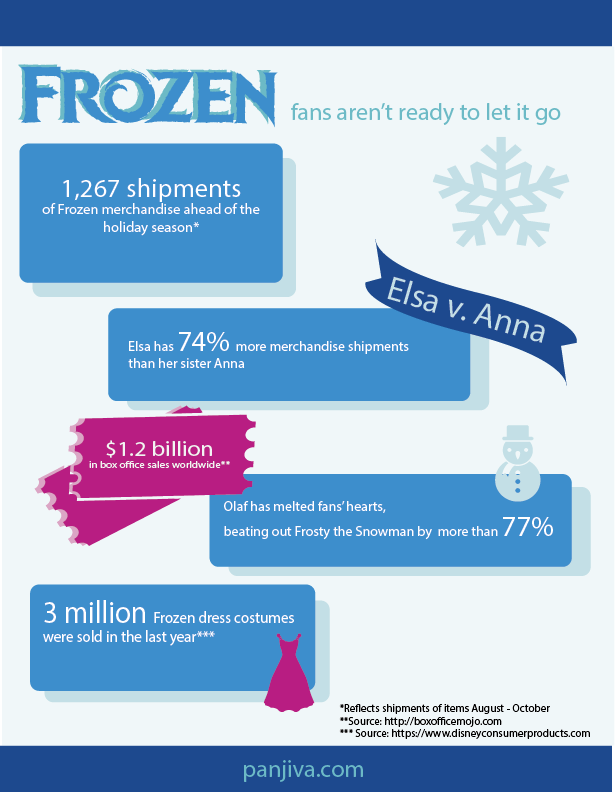 Some points worth noting:
Olaf is the new Frosty. Olaf merchandise shipments outpaced Frosty the Snowman merchandise shipments by 77%, and this despite Frosty having a multi-decade head start on the upstart Olaf. Frosty merchandise is actually down by more than 30% year over year.
Elsa remains the queen. Shipments of Elsa merchandise outpaced that of sister Anna by 74%.
From Panjiva:
Frozen has already shattered records as the highest grossing animated film of all time, and stands as the fifth highest grossing film ever with ticket sales of more than $1.2 billion globally. According to shipment data from Panjiva, consumer demand for all things Frozen shows no signs of slowing. From August to October, the time when retailers stock their shelves for the holiday season, shipments of Frozen merchandise showed an increase of more than 470 percent in 2014 compared to the same time period in 2013. Furthermore, shipments of Frozen products were more than double the combined number of shipments seen from last year's favorites, Sofia the First and Doc McStuffin, with a total of 1,267 Frozen shipments entering the U.S. ahead of the holiday shopping season.
The Christmas holiday season is getting off to a rough start, with Black Friday sales down an estimated 11%. But as I noted late last month, overall holiday shipments are up about 5% and toy shipments are up about 3%. Those are not stellar numbers by any stretch, but they do suggest that this year's sales will end up being modestly bigger than last year's once the registers stop ringing.
Charles Lewis Sizemore, CFA, is chief investment officer of the investment firm Sizemore Capital Management and the author of the Sizemore Insights blog.