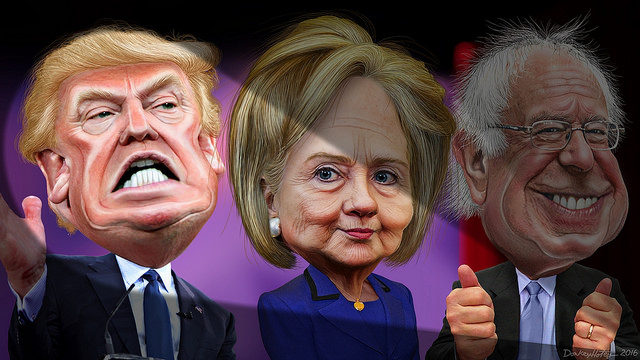 Photo credit Donkey Hotey
I wrote a tongue-in-cheek piece for InvestorPlace on 12 Stocks Fit for a President. The following is an excerpt:
We're in the middle of a presidential election year, and what a campaign it's been so far. It's looking like our choices will be two of the most polarizing political figures in modern history. But no matter who wins in November, we all have to get up and go to work the next day.
We also have portfolios to manage.
So, in the spirit of the 2016 election, I'm going to propose a portfolio fit for a president. And by "fit for a president," I mean that the stock shares its name with a former commander-in-chief.
This probably isn't the most scientific way to build a portfolio. But can you credibly say it's any more ridiculous as a basis for investment decisions than the Hemline Indicator, the Super Bowl Indicator, or the Bangladeshi Butter Indicator?
Alas, Donald Trump's companies are not publicly traded, and there's no public company with "Clinton" in its name. Though there is a Sanderson Farms (SAFM), so perhaps the market is telling us to expect a Bernie Sanders upset in November.
Hail to the Chief … I guess.
Presidential Stocks: Washington Real Estate Investment Trust
(
WRE
)
George Washington is the father of our country, the leader of our war of independence against Great Britain and our first president. He's also the only person to be elected to the presidency with a unanimous vote of the Electoral College.
I'm not sure what President Washington would think of our nation's capital, which bears his name. But as a successful businessman, he'd know a good profit opportunity when he saw it. If there is one sure bet in this life, it would be that the government will continue to get bigger. And as government grows, so does the city that supports it.
Washington REIT (WRE) is a real estate investment trust that focuses on office, retail and apartment properties in the Washington DC area. It's a small-cap REIT with a market capitalization of just $2 billion and a respectable dividend of 4.1%. George Washington himself preferred to invest in farmland, but you could do a lot worse than Washington DC real estate.
Presidential Stocks: Carter's Inc.
(
CRI
)
Poor Jimmy Carter gets even less respect than Gerald Ford, whom he succeeded as president. Carter's presidency was best remembered for runaway inflation, the Iranian hostage crisis, and that unfortunate sweater he wore during a fireside speech encouraging Americans to turn the thermostat down. But Carter wasn't all bad. Some of the reforms and deregulation that Reagan is known for actually started under Carter's administration. Whether Carter is actually smart enough to appreciate the pro-business accomplishments of his presidency is debatable, however.
Regardless, Carter's, Inc. (CRI) is a stock you ought to keep on your radar. It's one of the biggest makers of baby clothes in the world. That hasn't been a great business to be in lately, as American births have been trending downward since 2008. But with millennials starting to enter their family formation years, I expect Americans births to start ticking up again, and soon. And when they do, you can bet that you'll see a sustained bump in sales for Carter's and its peers.
You can read the rest of the article… and all 12 presidential stocks… here: 12 Stocks Fit for a President
Disclaimer: I built a portfolio of 12 stocks with no other criteria than sharing a name with a past president. This is a spoof. For crying out loud, please do not consider this serious investment advice.