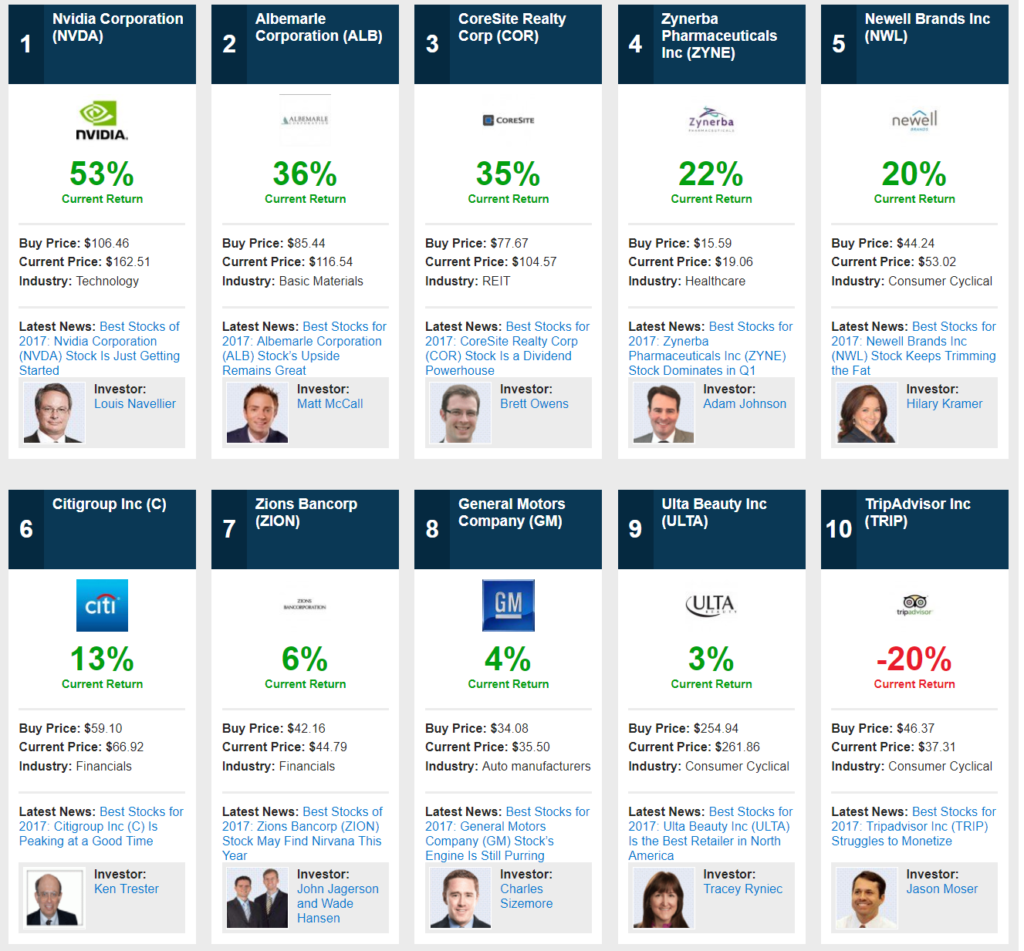 Well, halfway through 2017, I have a little catching up to do. My pick — General Motors (GM) — is sitting in 8th place with a year-to-date return of 4%.
Of course, we still have a lot of time left in 2017… and I've come back from larger deficits in the past. So, we shall see what the second half brings.
InvestorPlace's Jessica Loder did a solid recap of the contest here: The 10 Best Stocks for 2017 Contest – The Experts Lead at Halftime!

The year is just more than half over, and our Best Stocks for 2017 contest has just climbed over its midpoint. And if there's one thing I know about the competition for sure, it's that I wouldn't want to have to guess the eventual winner.

We've already seen some early laggards shoot up by double digits to reach the top spots, while some front-runners have struggled in the second quarter.

The sometimes-unpredictable headlines associated with the Donald Trump administration haven't always helped either — for instance, banking stocks are still watching for some of the surge that many hoped would come on looser regulations.

While the markets have slowed somewhat, competition is still fierce, and it could be anybody's game.

Overall, our experts' picks are largely looking good, with seven of the 10 outperforming the S&P 500 Index through the middle of the year, and all but one performing in the black. A lot can change between now and 2018, but if history is any indication, many of our experts' best stocks have the legs to run further.
…
Thus far, while the rest of the markets have been moving upward (at greater or lesser rates), General Motors Company (GM) has been spinning its wheels. But as Sizemore says:

"I do expect to earn better than a 4.4% total annual return. And I expect that once the recent spate of bad headlines passes, GM will finish the year strong … and perhaps strong enough to win the contest."

Headlines keep grinding traditional auto stocks down — many of them far harder than General Motors. But once people realize that maybe the sky isn't falling for automakers, things should turn around. After all, its price-earnings ratio of under 6 is "not just cheap. That's 'going out of business' cheap."

And don't forget, if you step into GM stock, you'll be in good company, with Warren Buffett, David Einhorn and David Tepper all with significant holdings.
Charles here. You can read my full write-up here: General Motors Company (GM) Stock's Engine Is Still Purring