The holiday shopping season seems to start a little earlier every year. Given that several national chains–among them heavyweights like Walmart (WMT) and Target (TGT)–are opening their doors while the sun is still up on Thanksgiving Day, I'm beginning to wonder if Black Friday sales will be much of a meaningful indicator in the years ahead.
At any rate, while the holiday shopping season is coming a little earlier for shoppers this year, the retailers have been planning for months. According to research firm Panjiva, most shipments for toys and merchandise to be sold during the holiday season arrive in U.S. ports during the months of August to October. So, in taking a look at that data, we can get a pretty good idea of what the major retailers are expecting this year.
According to Panjiva, total shipments of goods coming into U.S. ports from August through October are up five percent from last year. Shipments of toys are up three percent. Those are not blockbuster numbers by any stretch, but they do show that retailers are expecting improvement over last year. Given Wall Street's recent enthusiasm for consumer discretionary and retail stocks, investors seem to agree.
So, the data in aggregate looks decent. Let's drill down and see what exactly it is that retailers expect their shoppers to buy this year.
Puppies and Dolls Rule This Year's List of "It" Toys
From Panjiva's November 24, 2014 press release:
Panjiva analyzed shipment trends of various buzzed-about toys in 2014 and found that, based on their buying behaviors, retailers are expecting consumers will spend sizably on puppies and dogs this holiday shopping season. With 681 shipments from August through October, merchandise from Paw Patrol, a preschool-aged TV series starring a pack of puppies, is among the top new toys on this year's list. The robotic, interactive dog Zoomer is also a toy retailers are betting big on, with 417 shipments—a nearly 300 percent increase over the toy's 2013 holiday season shipments.

Retailers may be hedging their bets on the aforementioned and other newer toys by also stocking shelves with perennial favorites—especially dolls. Shipments of [Mattel's (MAT)] Barbie continue to be among the top overall toys every year. America's favorite fashion doll experienced 3,000 shipments this year, marking a 32 percent increase over last year… Doc McStuffins, Monster High and Sofia the First are among the other dolls retailers appear to be stocking on shelves, with 901, 765 and 663 shipments, respectively.

All of these items—along with others such as DohVinci, Little Live Pets, Elmo, and Nerf toys—approached or surpassed the 300 shipment mark, which has historically indicated strong performance and wide availability on store shelves.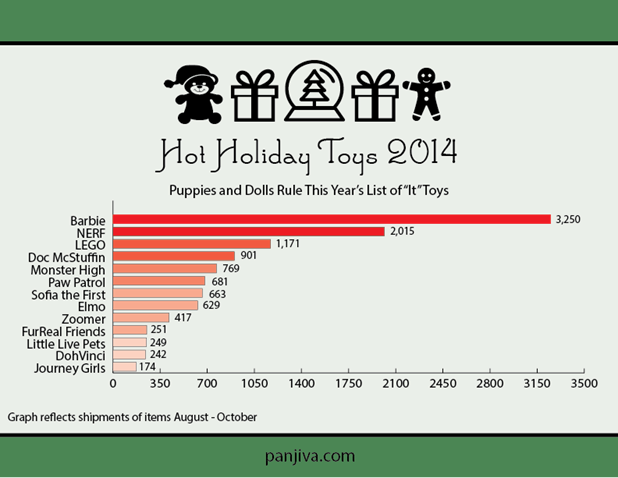 Panjiva didn't report specifically on toys from Disney's (DIS) Frozen in their press release, though a representative indicated that data for expected Frozen toy sales was expansive enough to warrant its own report to be released next week. Other market studies have Frozen toys and merchandise ranked very high. A trip to the Disney store would certainly confirm this!
Want a little bit of data to help keep your kids behaving this December? Panjiva reports that shipments of coal into the U.S. from August through October are up two percent over 2013, suggesting America's children might have been a little naughtier this year.
Charles Lewis Sizemore, CFA, is the chief investment officer of the investment firm Sizemore Capital Management. Click here to receive his FREE weekly e-letter covering top market insights, trends, and the best stocks and ETFs to profit from today's best global value plays.