Here we go again.  Hand-wringing over the Fed's tightening schedule has caused a sell-off in bonds and all things income related.  After falling for most of July and August, the 10-year Treasury yield has jumped to over 2.6% on speculation that the Fed may start tightening monetary policy sooner than previously thought.
We'll see. The Fed may indeed start to raise short-term rates as soon as the first quarter of next year.  But that by now means guarantees that longer-term rates will follow suit. Long-term yields have drifted lower for most of 2014, even as the Fed has continued to taper its quantitative easing program from $85 billion per month to just $15 billion per month.  Meanwhile yields in much of Europe are sitting at multi-century lows—yes, as in multiple hundreds of years—and the 10-year yield in Japan is less than 60 basis points.  Inflation remains below target across the developed world, and demand for fixed income is stronger than ever due to the aging of the baby boomers.
My prediction? The market consensus that the Fed will begin raising short-term rates by the end of the first quarter is probably "about right."  But I do not expect longer-term yields to follow.  In my view, a range of about 2.2% to 3.2% on the 10-year Treasury over the next 4-5 years is the most realistic scenario.
So, what's the trade?  Buy bonds?
No.  Even at a yield of 3.2%, at the upper end of my range, your real, inflation-adjusted yield will be about 1% at best, with no potential for income growth or capital appreciation.  A better option would be to buy the shares of "bond substitutes" like safe, triple-net REITs.
I've recommended Realty Income (O) before, and I would do so again today.  This is a stock I would feel comfortable recommending whenever bond yields drift towards the upper end of my range.  At current prices, Realty Income yields 5.2%, and the REIT has a long history of raising its dividend every year—and sometimes multiple times in a year (see chart).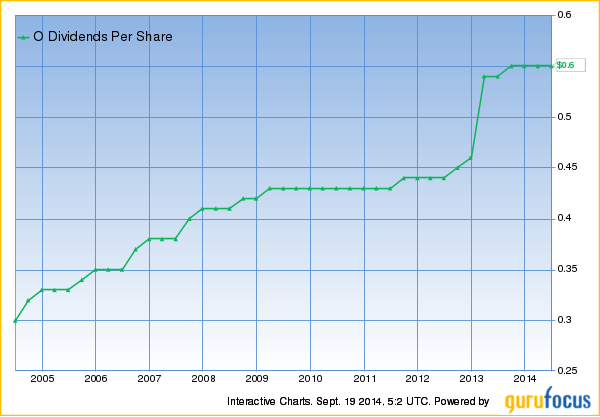 Realty Income is down about 9% from its 2014 highs to a current price of $41.76 as of Thursday's close.  I would recommend accumulating shares whenever they fall below $43.00.
Are you going to double your money in Realty Income?  I would seriously doubt it.  But if you're looking for retirement income, I would consider it a strong substitute for fixed income at current prices.
This piece first appeared on TraderPlanet.
Charles Lewis Sizemore, CFA, is the chief investment officer of the investment firm Sizemore Capital Management. Click here to receive his FREE weekly e-letter covering top market insights, trends, and the best stocks and ETFs to profit from today's best global value plays.